Ceramic teapots and Tile Teapots are very healthy to use. However, some stains may occur as you use it. Leaving tea in the teapot causes it to turn brown over time. After using the tea, pouring the tea immediately and rinsing it completely allows you to use it cleanly for longer periods.
Cleaning with vinegar
You can use vinegar and hot water to clean your Ceramic teapot and Tile Teapots. Pour a tablespoon of vinegar into your teapot and rub it with a dish sponge without scratching it. Wait 20 minutes. Clean it well with a cloth dipped in vinegar water for the outside. Then rinse thoroughly with lots of water.
Cleaning in the dishwasher
If there are special colored patterns or glazes in the Ceramic teapot and Tile Teapots, it is necessary to wash such Ceramic teapots and Tile Teapots by hand, as discoloration may occur.
Pour some bleach into the Ceramic teapot and Tile Teapots, let it sit for 5 minutes. Pour out the bleach without rinsing and put it in the dishwasher. When washing in the dishwasher, it should not be in the hot program, but should be washed in the warm water program.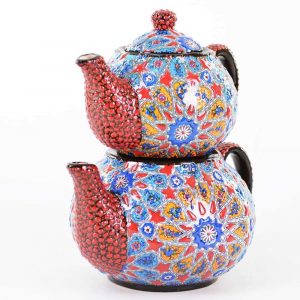 The methods that can be used in cleaning the Ceramic teapot are as follows.
Cleaning with liquid dish soap and bleach
For the stains inside the Ceramic teapot and Tile Teapots, add boiling water to your teapot where you put a little bleach and a few drops of liquid detergent and wait for ten minutes. Then wash it thoroughly by rubbing it inside and out with a sponge. Rinse with plenty of water afterwards
Cleaning with baking soda
Pour 1 teaspoon of baking soda into the Ceramic teapot and Tile Teapots and rub the teapot with a wet sponge. Clean the outside with vinegar or liquid detergent. After a few minutes, rinse with plenty of water.
By purchasing wholesale Ceramic Teapot and Tile Teapots, you can present our Turkish-made Ceramic Teapot and Turkish made Tile Teapots to your customers with its design and quality in your own shops and online sales.