The main purpose of oven gloves is to protect our hands from hot contact and prevent them from burning. That's why it's important that the gloves are the right size and not restrict your mobility. In addition, the full grip of the oven mitt on the hand is an important factor in terms of safety.
Oven Gloves are a very important item in the kitchen to carry hot pots, hot trays in the oven and even to prevent our hands from getting burned by the hot wires while barbecuing.
In addition to all these, it is important that the oven mitt not only protects the hands from the heat, but also adds a decorative beauty to the kitchen with its design.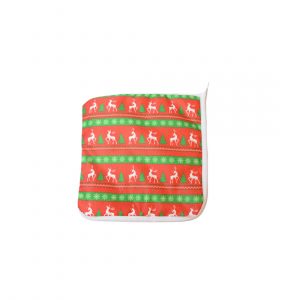 The fact that oven gloves are thick enough in a way increases their safety. For this reason, you should be sure of the thickness of the glove you will buy by trying it on your hands. Grab the oven mitt and pick up an object to see if it's thick enough. If you feel every feature of this object instantly, this thickness is not enough for oven gloves, you should choose another product.
Do not buy the product without knowing what material the oven mitt you are considering is made of. The product, which seems very safe or thick, may not be safe, melt or stick in contact with heat. All of these are factors that threaten your security. At this point, you should prefer oven gloves made of materials that do not stick to glass or metal surfaces, do not melt or deform quickly.
By purchasing wholesale Oven Gloves, you can present our Turkish-made oven gloves to your customers with its design and quality in your own shops and online sales.
You can find Turkish-made Oven Gloves with many special designs at Allamex.