Ceramic Censer and Tile Candle Holder is a natural design that helps to breathe essential oils into the air. Essential oils are substances that can make the soul, body and mind better even when smelled. Essential oils from various parts of plants help cleanse one's energy, clear one's mind, and protect it from germs.
How to Use a Ceramic Censer and Tile Candle Holder?
Ceramic Censer and Tile Candle Holder have a chamber at the top. Some water is put into this chamber. 4-5 drops of essential oil mixture or a single essential oil is dropped on it. A tea light candle is placed in the space at the bottom of the ceramic censer design and the candle is lit. The burning candle causes the water to heat up after a while. As the water heats up, essential oils dissolve into the air. Thus, the smell of the environment changes and the air of the environment is cleaned thanks to the antibacterial properties of essential oils.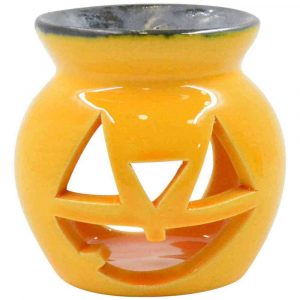 What Should Be Considered When Using an Aromatherapy Ceramic Censer and Tile Candle Holder?
Since the candle burns during the use of the aromatherapy ceramic censer, care should be taken not to leave the room for a long time. Particular attention should be paid to this rule in places with children and pets.
The Ceramic Censer and Tile Candle Holder must be placed on a flat and stable surface.
Even if the essential oil mixture is herbal, pure and natural, it should not be smelled for too long. It should be noted that excess of everything is harmful. Over-smelling essential oils can also cause harm. For this reason, after 1 tea light candle is finished, it may be too much to light the second one on the same day. 1 tea light candle burns for an average of 3-5 hours.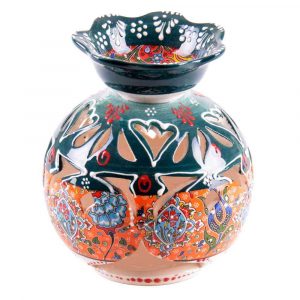 While using aromatherapy Ceramic Censer and Tile Candle Holder, citrus fruits can be preferred in places such as workplace, study room and office.
In places such as living rooms and bedrooms, a more soothing and calming lavender scent can be preferred.
By purchasing wholesale Ceramic Censer and Tile Candle Holder, you can present our Turkish-made ceramic censer and Turkish Made Tile Candle Holder to your customers with its design and quality in your own shops and online sales.